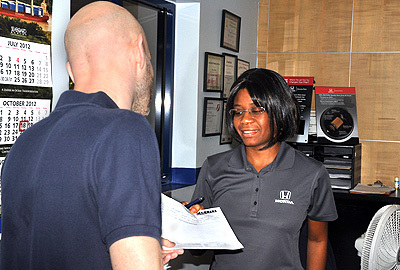 Online Vehicle and Drivers' Licensing Registration Begins
Individuals who register for Government's new e-services identification (ESID) number can now renew their vehicle and drivers' licences online.
Announcing the initiative on a local radio show today (Friday, October 19, 2012), the multi-agency public sector team that oversaw the project explained that persons seeking ESIDs (pronounced ee-sids) need first only make a very quick stop at the Department of Vehicle and Driver's Licensing (DVDL) to pick up their number in person.
Once that is done there are only two further steps necessary to renewing vehicle licences online. For the inspection phase members of the public are able to take their vehicles to any of 12 private garages, in addition to the DVDL office at 990 Crewe Road.  Once the external garage has completed the inspection process, it will electronically submit details, such as valid insurance information, to the department.
With an ESID and their driver's licence number, vehicle owners then visit www.dvdl.gov.ky or www.eservices.gov.ky to complete the online renewal. They have the option to pick up their documents from DVDL or have them delivered by post.
Driver's licence renewals follow a similar process. With their ESID and driver's license, persons may register to renew their licence. Although they must pick up their new licences from the DVDL where their picture will be taken, there will be no waiting in line. Costs remain the same as for in person registration. This is also true for vehicle licences.
For more information about online vehicle and driver's licence renewals, interested persons should visit www.dvdl.gov.ky, www.eservices.gov.ky or tel. 945-8344.